FilterSets allows you to easily create a collection of defined dashboard filters that can be saved and reused across multiple dashboards, shared dashboards with public URL, and shared with other users for enhanced collaboration and productivity.
For example, you can have a FilterSet called Weekly North American Sales to look at specific sales performance for a particular region, dynamic date range, and specific product category.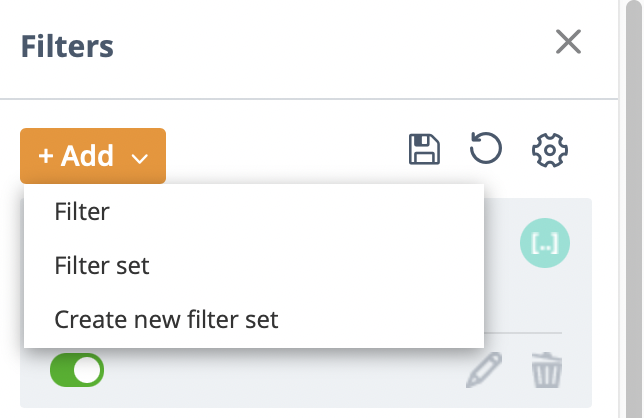 Creating Dashboard FilterSets
FilterSets can be added to any dashboards for tailored results on the dashboard's data. Adding a FilterSet consist of these major steps:
Create the FilterSet itself, including the name
Decide which fields to include and the filtered values
To get started, click Filters icon on the dashboard toolbar and select "Create new filter set"
This brings up a window which you can give the FilterSet a name and an optional color association

Next, on the newly created FilterSet window,
select +Filter to add filters to this FilterSet
This brings a pop-up to select the fields to filter, type of filter, and a default value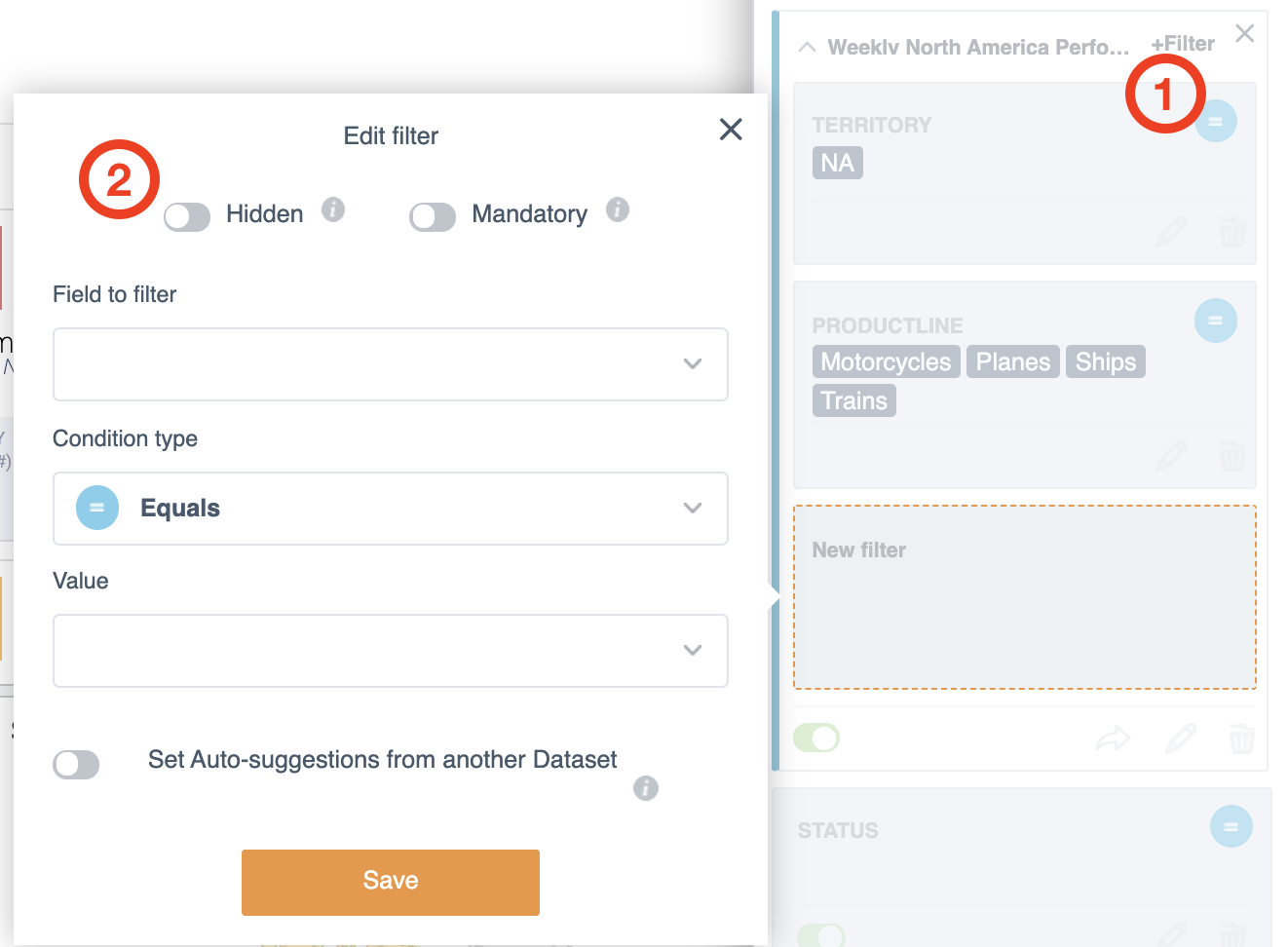 Applying FilterSets
By default, a new dashboard FilterSet is enabled on when applied on the dashboard. To apply one or more FilterSets to a dashboard, choose Filter set from the +Add filter option and multi-select existing FilterSets from the drop-down window.
To disable a FilterSet, toggle the green switch on the bottom left, and to remove FilterSet from the dashboard but not delete from your account, click the cross on the top right tile.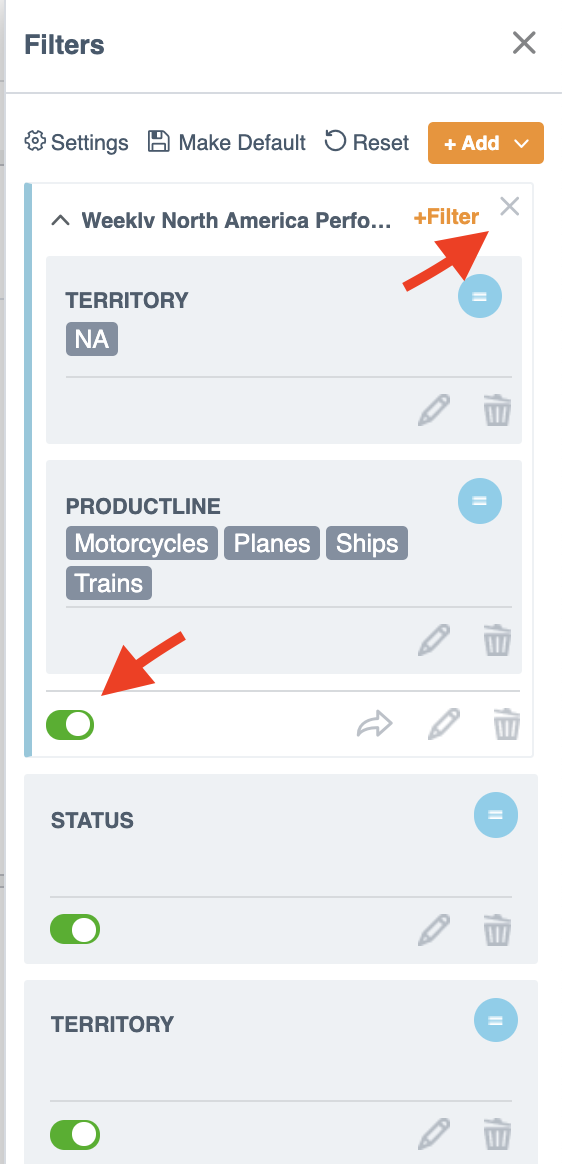 Editing an Existing FilterSet
An existing FilterSet's name and color can be changed by clicking the FilterSet's pencil icon.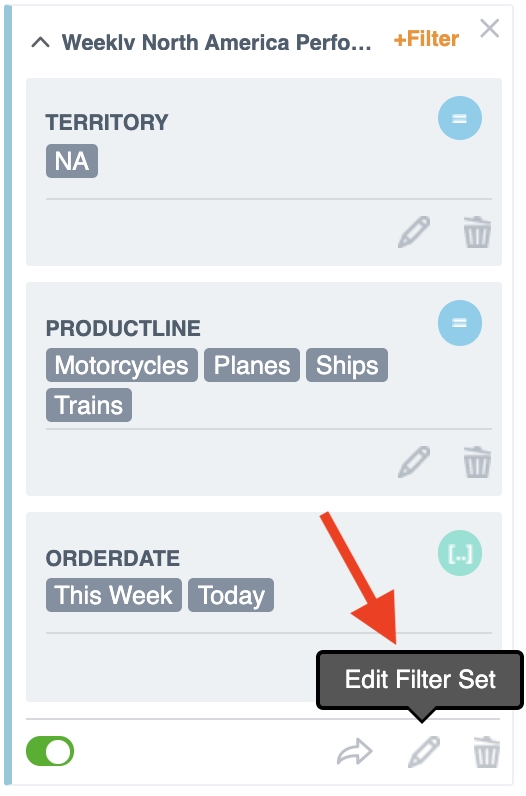 Deleting a FilterSet
To delete a FilterSet completely from the site, click the FilterSet's trash icon at the right-hand corner to open the editor for confirmation. Deleting a FilterSet also deletes it from any shared user or groups.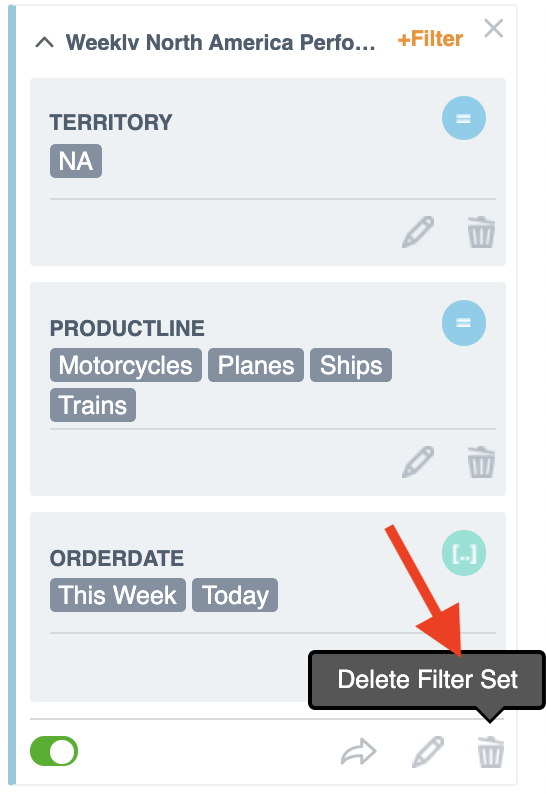 Sharing a FillterSet
To share an existing FilterSet to a user or group, click the share icon on FilterSet to bring up a share dialog, which you can select the appropriate access level for users and groups.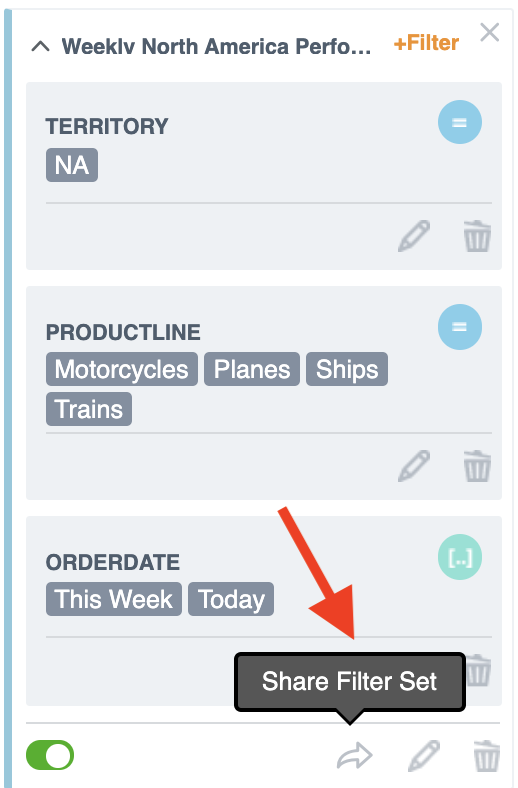 When sharing a FilterSet to a user or group, there are two access level options available:
View - users/groups can consume FilterSet but not allowed to modify
Edit - users/groups can consume and make edits to a FilterSet, including the name, color, and filter field/value attributes.