To access Dashboard-specific settings, click on the settings icon from the top right corner of the interface.
A modal window will appear providing the following options to configure the dashboard settings:
Edit Dashboard Name
Categories
Display Options
Custom CSS/JavaScript
Custom Headers & Footer
Popup Description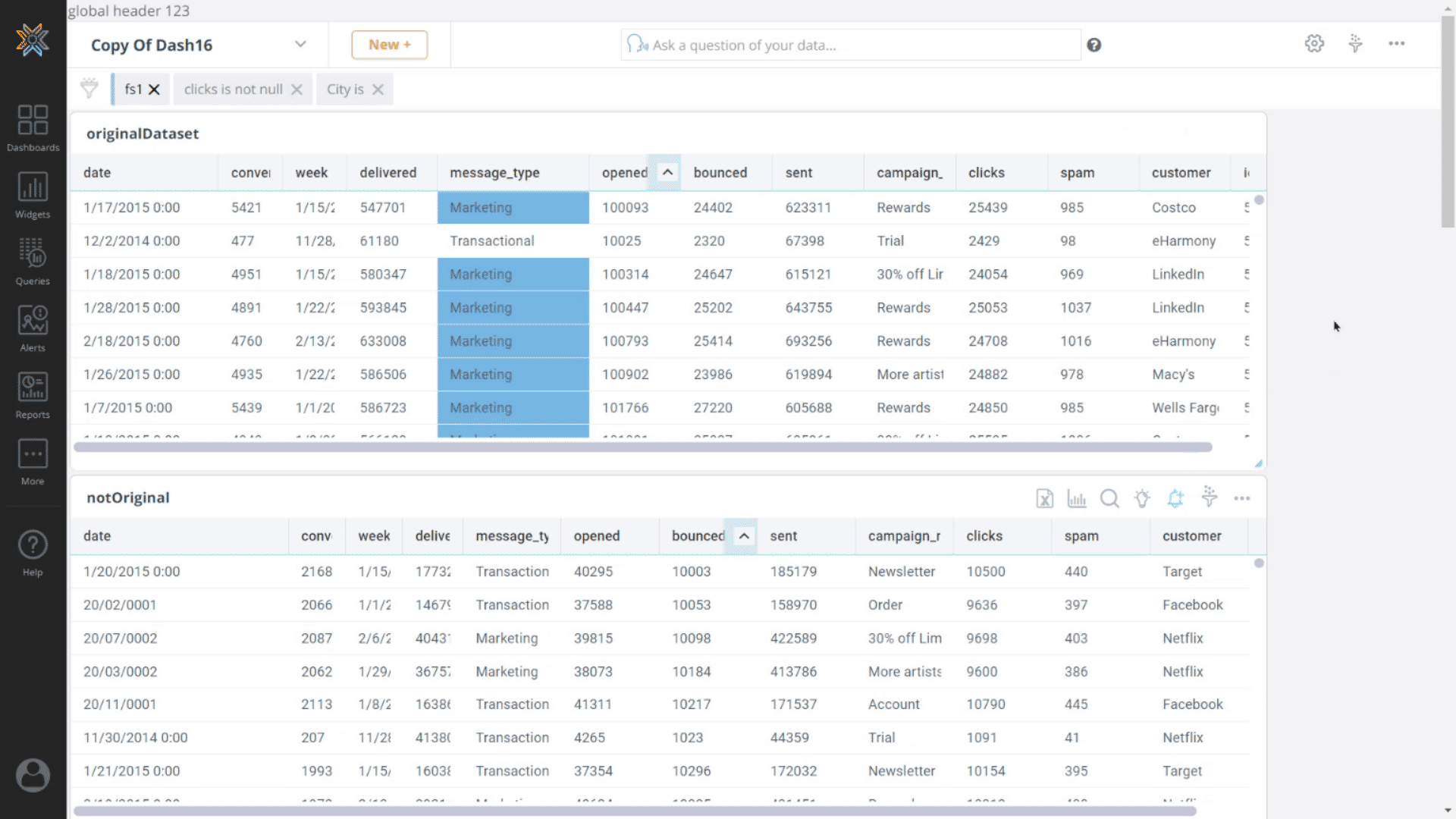 Edit Dashboard Name
Enter the new Dashboard Name and click 'Save'.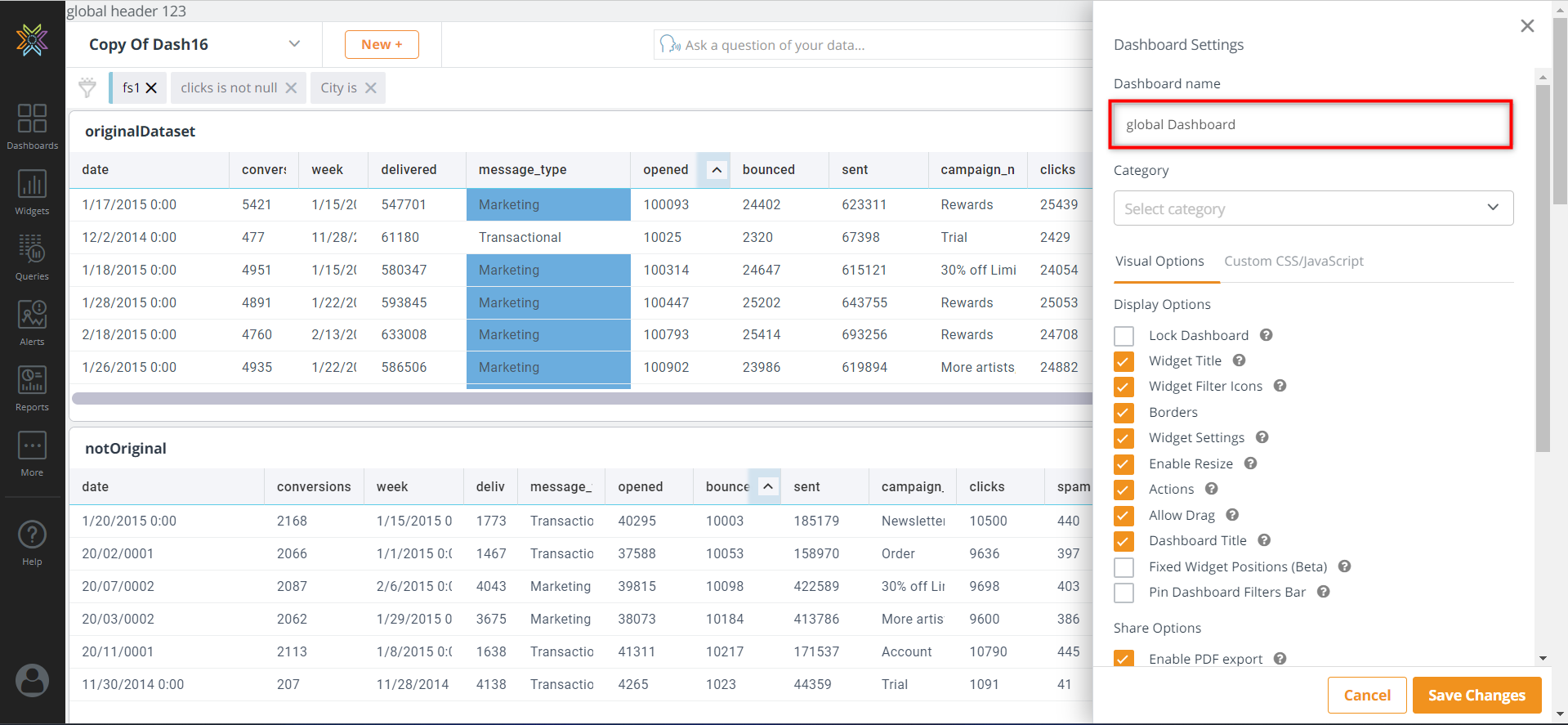 Categories
Go to dashboard settings and select the category name into which you would like to categorize your dashboards and sort them. Categorizing the dashboards makes it easy to find the appropriate dashboard you are looking for from several dashboards.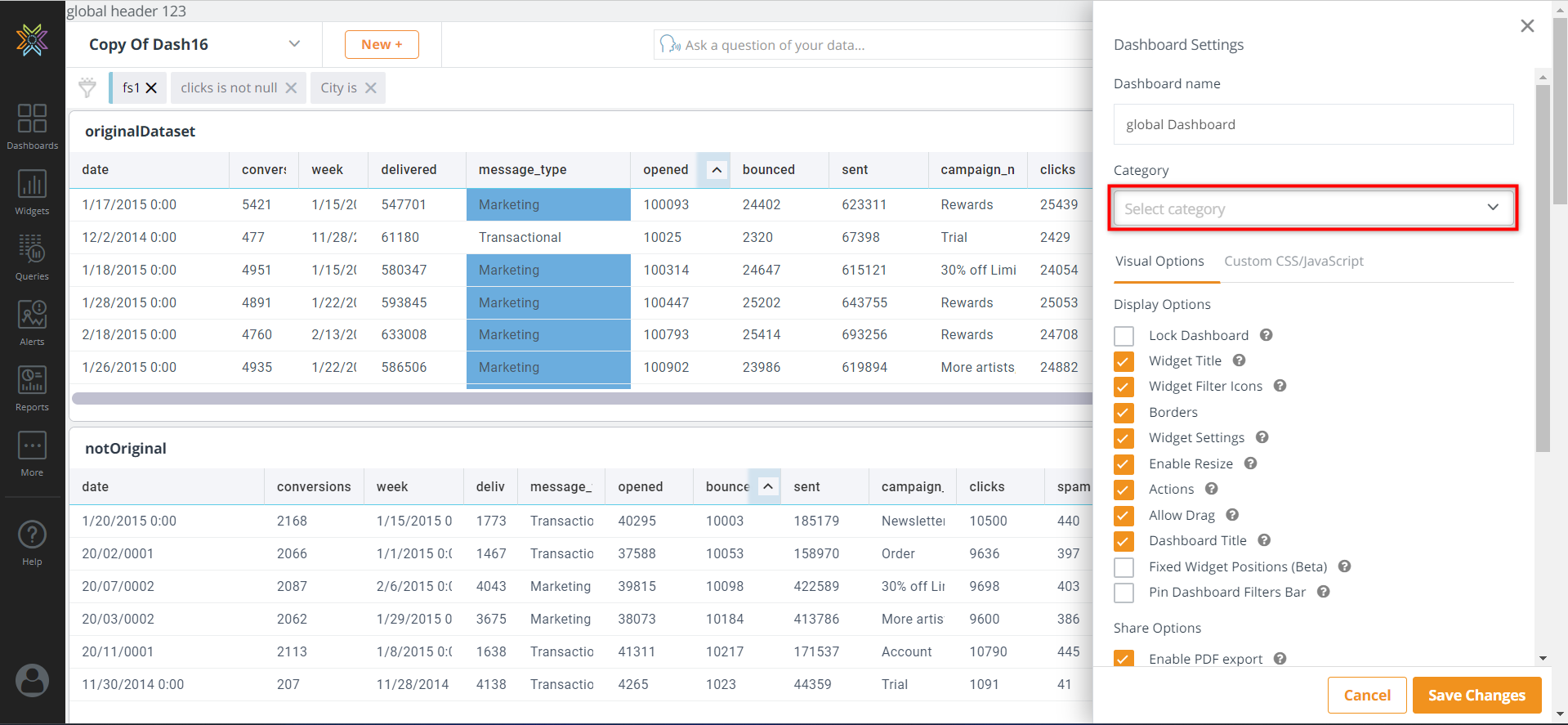 Display Options
| | |
| --- | --- |
| Option | Description |
| Lock Dashboard | Locks widget positioning, with resize/drag options disabled. Typically used to avoid accidental positioning modifications. |
| Widget filter icons | Toggle widget filters |
| Widget settings | Toggle widget filters |
| Actions | Toggle dashboard filters and sharing |
| Dashboard Title | Toggle Dashboard title |
| Widget title | Toggle widget titles |
| Borders | Toggle widget borders |
| Enable resize | Toggle the ability to resize widgets |
| Allow drag | Toggle the ability to resize widgets |
| Fixed Widget Positions | This will position the widget where you exactly place it in to the dashboard, instead of snapping it to fit automatically |
| Pin Dashboard Filters Bar | This will pin dashboard filters bar on top of dashboard and will be visible during scrolling |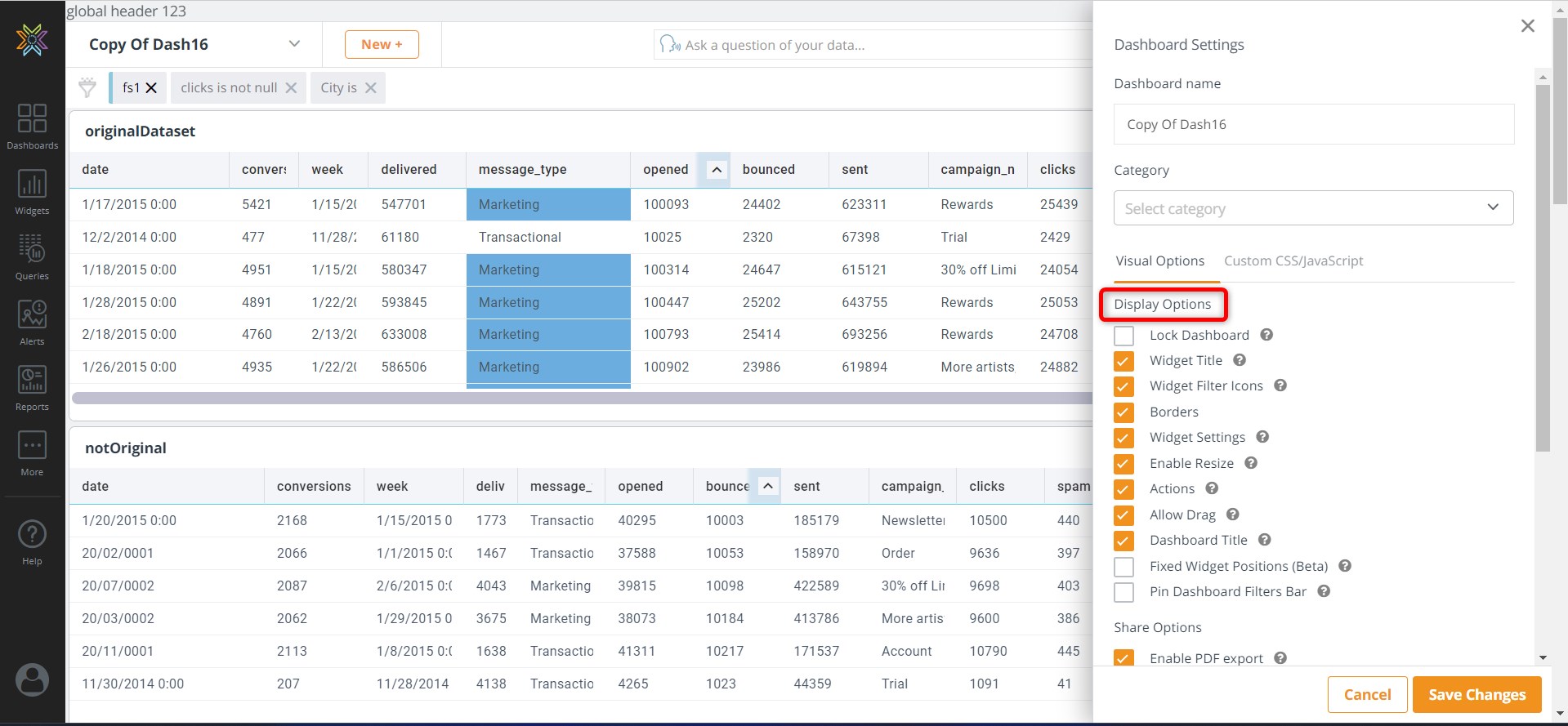 Share Options
| | |
| --- | --- |
| Enable PDF export | Enables PDF export |
| Enable headers | Disable all headers if not checked |
| Enable PowerPoint export | Enables Powerpoint export |
| Enable Dashboard Filter icon | Enable the dashboard Filter icon |
| Widget InstantSights Icons | Enables widget InstantSights icons |
| Enable Presenter | Enables Presenter |

Widget Spacing (px)
Spacing between widgets (px). A number between 0 and 200.
Dashboard Background Color
Adjust the dashboard background color


Custom CSS/JavaScript
Add custom CSS () or JavaScript () tags, which will be applied to the dashboard for a customized look and feel.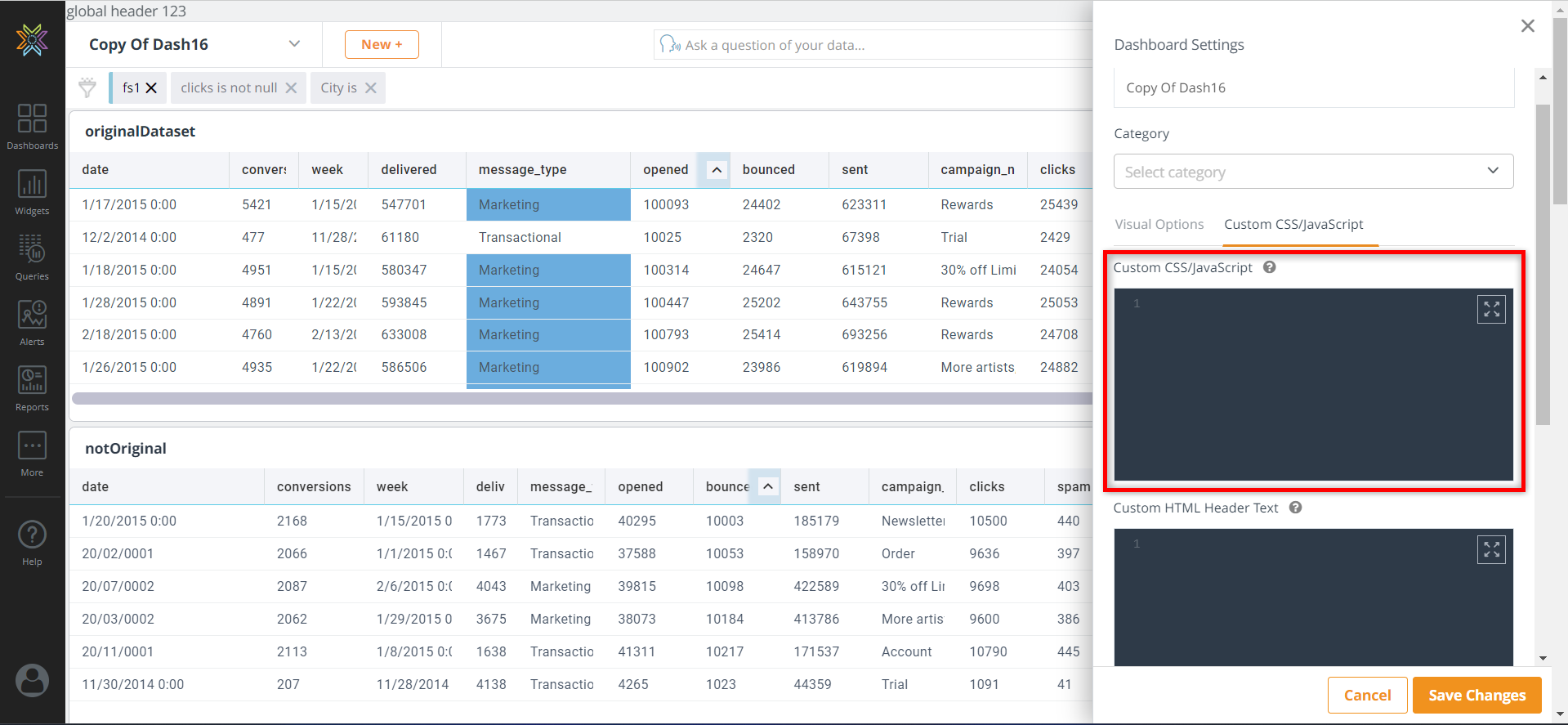 Custom Headers & Footer
You can customize the dashboard header and footer with HTML for a customized look and feel.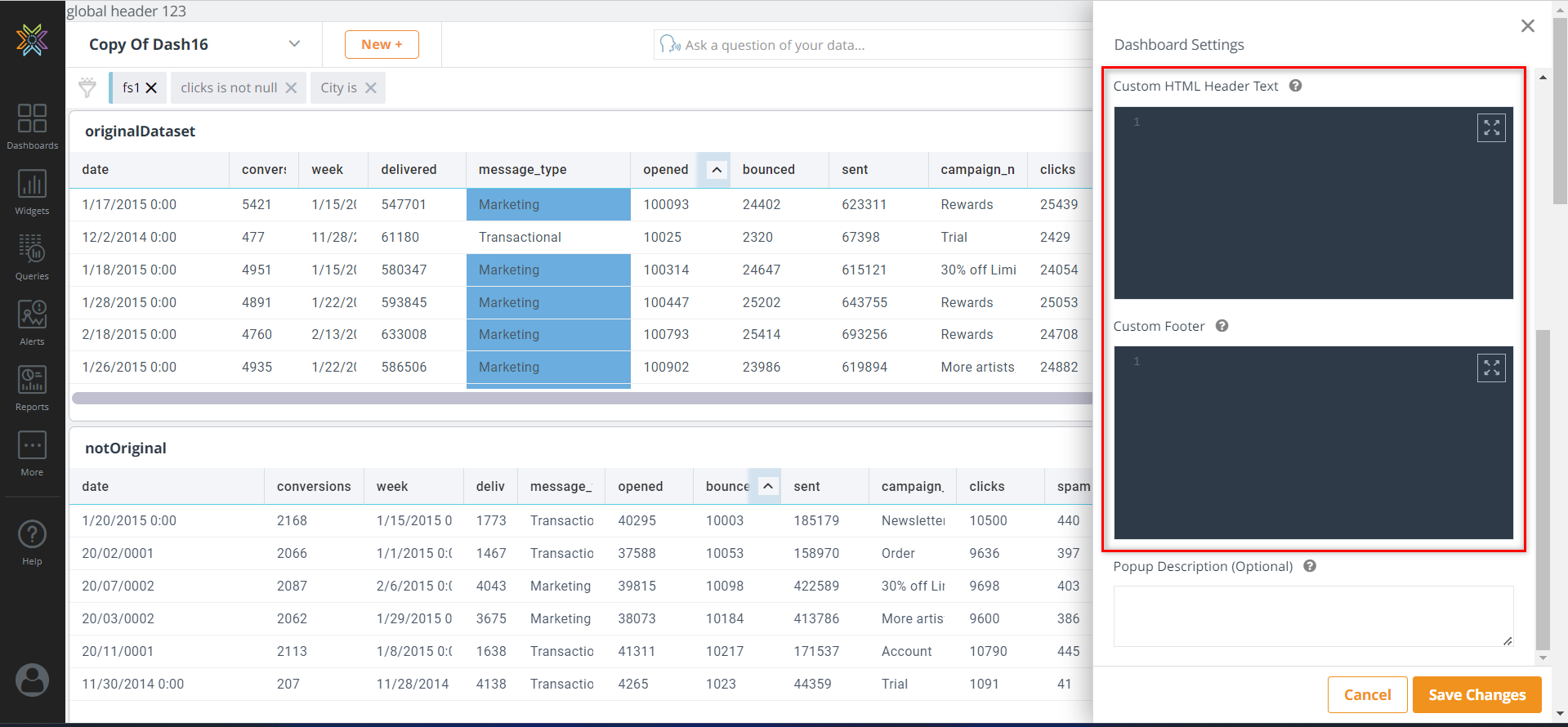 Popup Description
Optional descriptions can be configured, which enables a pop-up description at the bottom of the screen when a user access that dashboard
The description is shown three seconds after the dashboard loads and fades out after 20 secs (or if upon scroll down).