Basic Grid. Supports formatting, conditional highlighting, sorting, grouping, and search. Has a different look and feel to other Grid type.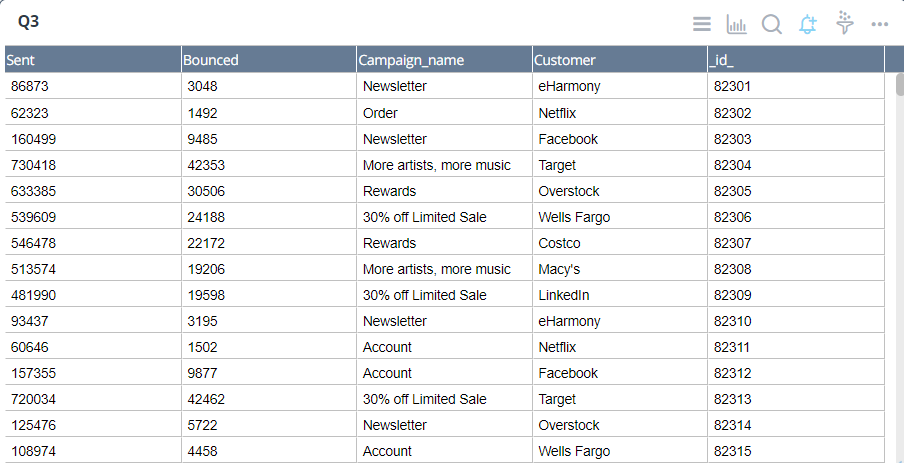 Data Grid:
Primary Use:
Display the data in numerical form on a simple, easy to read grid
How to use:
Click on a visualization that has been already created/formatted, change the type to "data grid"
Hyperlink Support:

Hyperlinks are created using the concat function within Cloud9QL and column names may be passed in as parameters to
the url creation.

For example:
select concat("<a href='http://www.facebook.com/'", customer_id, " _target='blank'>",customer,"</a>") as Facebook

Specific options:
Font size
Default font size
Color of odd rows
Background color for the each odd rows
Color of even rows
Background color for the each even rows
Font color
Font color
Color of Header rows
Background color for the header
Header font color
Font color for the header
Minimum Column Width
For cases with large number of columns, apply a minimum grid width to enable horizontal scroll instead of fitting the grid into the viewport
Grid line thickness
Adjust the thickness of grid lines
Cells Padding
Pad cell content
Grouping
Group data by parameters
Aggregation
Calculate statistics: min, max, average, total, count, and weighted average. Can be displayed at the top or bottom of the data grid.
Time format for data grid: Time format with date is available in Format option of the data grid. When you format cells with date format, you can select the date with time formatting.